Adaptive Armor Mk2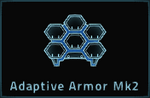 Adaptive Armor Mk2
Passive Device
Increases the ship's armor, effectively reducing any incoming damage
‌
Class Restriction
{{{classres}}}
{{{classres2}}}
{{{classres3}}}
{{{classres4}}}
‌
Shield DPS
{{{shielddps}}}/s
‌
Hull Damage
{{{hulldmg}}}
‌
Shield Damage
{{{shielddmg}}}
‌
Hull Area Damage
{{{hullareadmg}}}
‌
Shield Area Damage
{{{shieldareadmg}}}
‌
Fire Rate
{{{firerate}}}/s
‌
Energy Consumption
{{{energyconweap}}}/s
‌
Energy Consumption
{{{energycon}}}
‌
Damage Per Energy
{{{dmgxen}}}
‌
Full Charge Duration
{{{fullchdur}}}s
‌
Area Damage Range
{{{areadmgrange}}}m
‌
Full Charge Damage Bonus
{{{fullchdmgx}}}x
‌
Full Charge Add. Projectiles
{{{fullchpro}}}
‌
Damage Increase
+{{{dmginc}}}%
‌
Energy Consumption Increase
+{{{energyconinc}}}%
‌
Recharge Rate
{{{rechargerate}}}/s
‌
Recharge Delay
{{{rechargedel}}}s
‌
Shutdown Duration
{{{shutdowndur}}}s
‌
Cooldown Duration
{{{cooldur}}}s
‌
Cooldown Duration Decrease
-{{{cooldurdec}}}%
‌
Fire Rate Increase
+{{{firerateinc}}}%
‌
Energy Consumption Decrease
-{{{energycondec}}}%
‌
Hitpoints Increase
+{{{hpincper}}}%
‌
Recharge Rate Increase
+{{{rechrateinc}}}%
‌
Recharge Delay Decrease
-{{{rechdeldec}}}%
‌
Shutdown Duration Decrease
-{{{shutdowndurdec}}}%
‌
Resource Amount
{{{resamt}}}
‌
Effect Duration
{{{effectdur}}}s
‌
Repair Amount
{{{repamt}}}
‌
Life Time
{{{lifetime}}}s
‌
Critical Hit Chance Increase
+{{{crithitchinc}}}%
‌
Velocity Increase
+{{{speedinc}}}%
‌
Range Increase
+{{{rangeinc}}}%
‌
Spread Decrease
-{{{spreaddec}}}%
‌
Effect Duration Increase
+{{{effectdurinc}}}%
‌
Jump Cooldown Increase
+{{{jmpcooldinc}}}%
‌
Full Charge Damage Mulitplier
{{{fullchdamx}}}x
‌
Success Chance
{{{succha}}}%
‌
Nano Bot Drop Chance
{{{nanodrop}}}%
‌
Max Stack Size
{{{slotmax}}}
‌
Shield Piercing
+{{{shieldpierce}}}%
‌
Conversion Percentage
{{{convpercent}}}%
‌
Conversion Amount
{{{convamt}}}
‌
Conversion Ratio
{{{convratio}}}
‌
Critical Hit Chance
{{{crithit}}}%
CRAFTING
Required Resources
‌

Nano Bots
{{{nanobot}}}
‌
‌

Viridian Energy
{{{venergy}}}
‌
‌

Scrap
{{{scrap}}}
‌
‌

Gel
{{{gel}}}
‌
‌

Compounds
{{{compound}}}
‌
‌
Power Cells
{{{pcell}}}
‌
‌

Processors
{{{processor}}}
‌
‌

Crystals
{{{crystal}}}
‌
‌

Gas
{{{gas}}}
‌
‌

Ore
{{{ore}}}
‌
‌

Plasma
{{{plasma}}}
‌
‌

Dark Matter
{{{dmatter}}}
‌
‌

Dark Energy
{{{denergy}}}
SALVAGING
Obtained Resources
‌

Nano Bots
{{{salnanobot}}}
‌
‌

Viridian Energy
{{{salvenergy}}}
‌
‌

Scrap
{{{salscrap}}}
‌
‌

Gel
{{{salgel}}}
‌
‌

Compounds
{{{salcompound}}}
‌
‌
Power Cells
{{{salpcell}}}
‌
‌

Processors
{{{salprocessor}}}
‌
‌

Crystals
{{{salcrystal}}}
‌
‌

Gas
{{{salgas}}}
‌
‌

Ore
{{{salore}}}
‌
‌

Plasma
{{{salplasma}}}
‌
‌

Dark Matter
{{{saldmatter}}}
‌
‌

Dark Energy
{{{saldenergy}}}
"
HIVE: A wise decision. That should keep you alive for longer.
Hero: I hope so. Dying sure is getting old.
"
~ HIVE and Hero after equipping Adaptive Armor the first time.
Adaptive Armor Mk2 is a passive device in Everspace that decreases damage taken. Prior to Update 0.3.0.29930, it was known as Hull Enhancer, but with the same appearance. Only one Adaptive Armor (regardless of type) can be installed at one time.
Crafting
Required Resources
Obtained Resources
‌

Nano Bots
{{{nanobot}}}
‌
‌

Viridian Energy
{{{venergy}}}
‌
‌

Scrap
36
‌
‌

Gel
{{{gel}}}
‌
‌

Compounds
{{{compound}}}
‌
‌
Power Cells
{{{pcell}}}
‌
‌

Processors
{{{processor}}}
‌
‌

Crystals
{{{crystal}}}
‌
‌

Gas
5
‌
‌

Ore
18
‌
‌

Plasma
22
‌
‌

Dark Matter
8
‌
‌

Dark Energy
{{{denergy}}}
Salvaging
Required Resources
Obtained Resources
‌

Nano Bots
{{{nanobot}}}
‌
‌

Viridian Energy
{{{venergy}}}
‌
‌

Scrap
7
‌
‌

Gel
{{{gel}}}
‌
‌

Compounds
{{{compound}}}
‌
‌
Power Cells
{{{pcell}}}
‌
‌

Processors
{{{processor}}}
‌
‌

Crystals
{{{crystal}}}
‌
‌

Gas
{{{gas}}}
‌
‌

Ore
{{{ore}}}
‌
‌

Plasma
4
‌
‌

Dark Matter
{{{dmatter}}}
‌
‌

Dark Energy
{{{denergy}}}
See Also